Known as the "Silicon Valley of India," Bangalore (officially known as Bengaluru) is a city that beautifully marries tradition with modernity. As the capital of the Indian state of Karnataka, Bangalore is renowned for its thriving IT industry, pleasant weather, lush parks, and a vibrant cultural scene. Its colonial architecture, temples, gardens, shopping districts, and nightlife make Bangalore a city with a truly cosmopolitan appeal. This article introduces some of the must-visit destinations in Bangalore that offer a glimpse into its rich heritage and natural beauty.
Best Time to Visit Bangalore
Bangalore, also known as Bengaluru, is fortunate to have a moderate climate throughout the year due to its elevation. However, certain seasons might still be more comfortable and enjoyable for travel.
Winter (October to February): These are arguably the best months to visit Bangalore. The temperatures during these months range between 10°C and 25°C (50°F – 77°F), making it ideal for sightseeing and outdoor activities. The pleasant and slightly chill weather is perfect for exploring gardens, monuments, and markets.
Summer (March to June): Summer in Bangalore is relatively mild compared to many other parts of India, with temperatures usually staying between 20°C and 35°C (68°F – 95°F). Early summer (March to April) is still a good time to visit, but it can get quite warm during the day in the peak summer months of May and June.
Monsoon (June to September): Bangalore experiences moderate rainfall during the monsoon. The city's greenery comes alive during this time, and the temperatures drop, making it quite picturesque. However, heavy rains can occasionally disrupt travel plans, so it's essential to plan accordingly if you choose to visit during this period.
While Bangalore can be visited at any time of the year, the winter months offer the most pleasant weather, ideal for sightseeing and experiencing all that the city has to offer. Always remember to check the weather forecast before you plan your trip to make the most of your visit.
Best Tourist Attractions in Bangalore
1. Bangalore Palace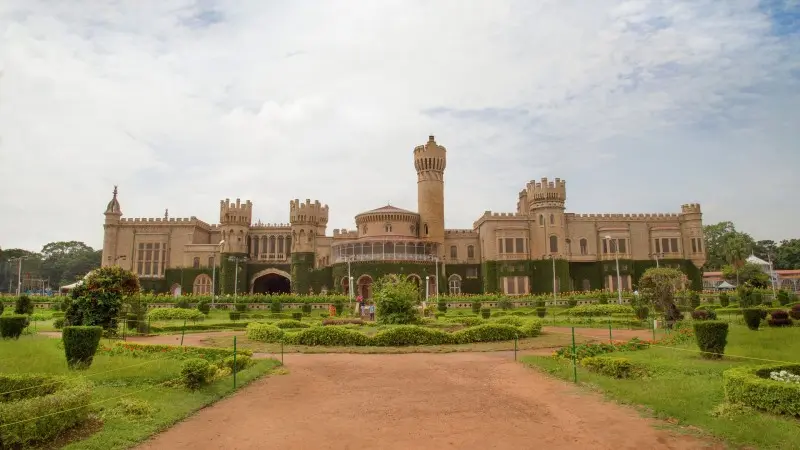 Reflecting the splendor of the bygone era, the Bangalore Palace is an architectural marvel in the heart of the city. Inspired by England's Windsor Castle, this palace was built by Chamaraja Wadiyar in 1878. The Tudor-style architecture is characterized by fortified towers, gothic windows, and a sprawling garden, giving it a distinctly regal charm.
The palace's elegant interiors boast of ornate carvings, paintings, and chandeliers. The Durbar Hall, once used by the king for addressing his assembly, stands as the main attraction with its high ceilings and grandeur. The palace grounds often host concerts, exhibitions, and cultural performances, adding to the city's vibrant cultural scene.
Entry Fee: 230 INR; Location:
Check Map
Address: Bengaluru, Karnataka, India.

2. Lal Bagh Botanical Gardens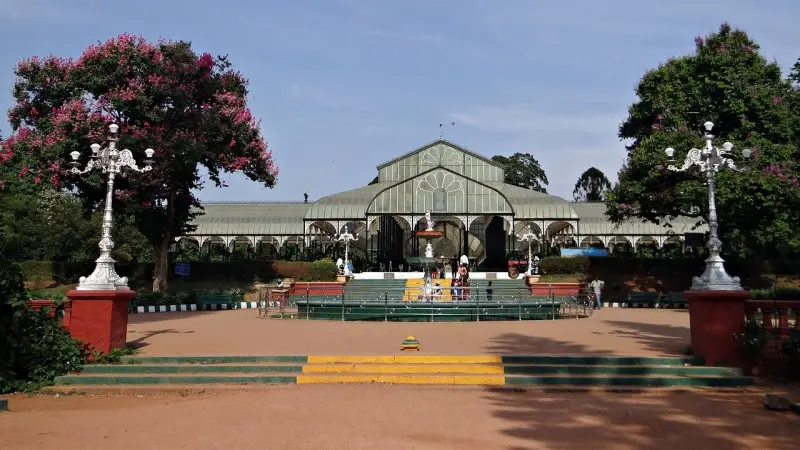 Lal Bagh Botanical Gardens, literally translated to the 'Red Garden,' is a haven for nature lovers. Spread over 240 acres, this botanical garden was initially commissioned by Hyder Ali, the ruler of Mysore, in 1760 and later completed by his son Tipu Sultan.
The garden houses a myriad of rare and exotic flora, with over 1,000 species of plants. One of the main attractions in Lal Bagh is the centuries-old, fascinating rock formation known as the Lal Bagh Rock, which is believed to be over 3,000 million years old. The garden also features a glasshouse, modeled after London's Crystal Palace, where bi-annual flower shows draw crowds from all over the country.
Entry Fee: 20 INR; Location:
Check Map
Address: Mavalli, Bengaluru, Karnataka 560004, India.

3. Nandi Hills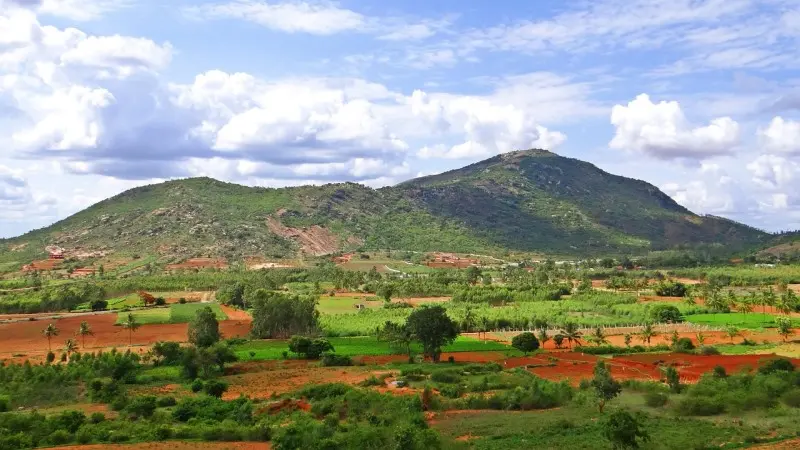 About 60 km from Bangalore, Nandi Hills is a serene and picturesque hill station. Named after the statue of Nandi (a sacred bull) at the Yoganandeeshwara Temple located atop the hill, Nandi Hills offers a stunning panoramic view of the surrounding landscape.
Nandi Hills is historically significant as it served as a summer retreat for Tipu Sultan, who built a fortress on the hill. The pleasant climate, misty landscapes, and the opportunity to engage in activities like paragliding and cycling make Nandi Hills a perfect getaway from the city's hustle and bustle.
Entry Fee: 5 INR; Location:
Check Map
Address: Nandi Hills, Karnataka, India.

4. National Gallery of Modern Art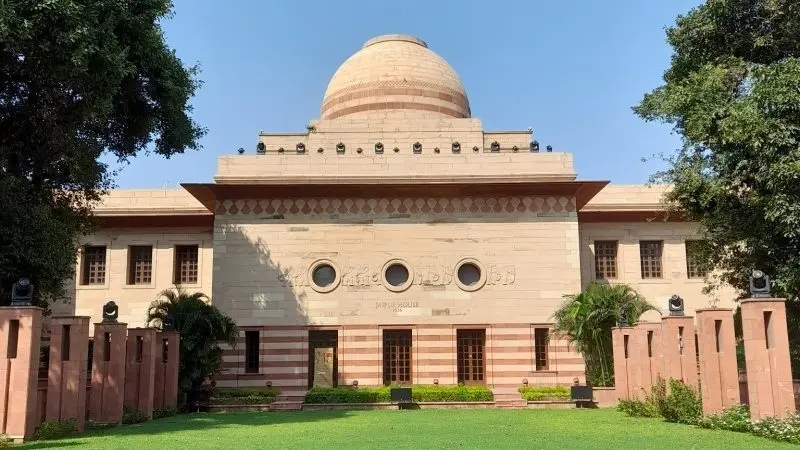 The National Gallery of Modern Art (NGMA) in Bangalore is a treasure trove for art lovers. Housed in the majestic Manikyavelu Mansion, the gallery showcases a diverse collection of modern and contemporary art. The NGMA's collection includes artworks from several prominent artists, both Indian and international, dating from the 18th century to the present.
The beautifully maintained lawn and the quiet ambiance make it an ideal spot for art enthusiasts to lose themselves in the world of color, emotion, and creativity. The gallery also conducts workshops, film screenings, and guided walks, making it a hub of cultural exchange and learning.
Entry Fee: 20 INR; Location:
Check Map
Address: Jaipur House, Shershah Rd, near India Gate, Delhi High Court, India Gate, New Delhi, Delhi, India.

5. Ulsoor Lake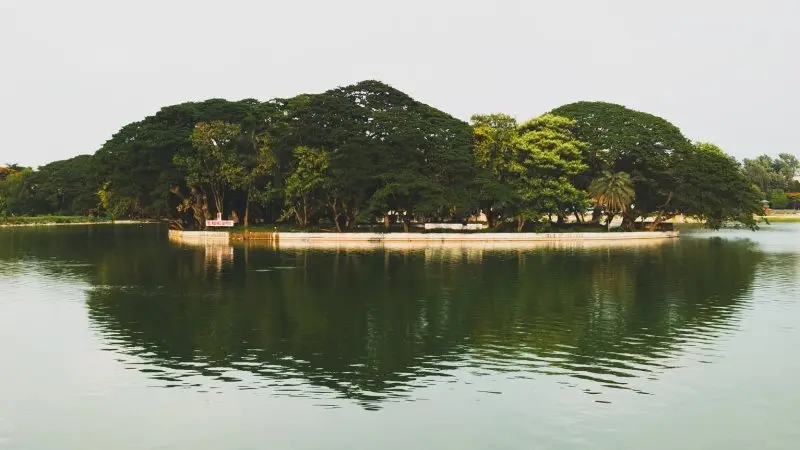 Ulsoor Lake, one of the biggest lakes in Bangalore, is a popular recreational spot in the city. Spread over an area of 123 acres, the lake is dotted with several small islands and has boating facilities.
The serene environment of the lake provides a much-needed escape from the city's fast-paced life. Whether you want to enjoy a leisurely boat ride, take a stroll around the lake, or just sit and admire the beautiful surroundings, Ulsoor Lake is the perfect place to relax and unwind.
Entry Fee: Free; Location:
Check Map
Address: Halasuru, Sivanchetti Gardens, Bengaluru, Karnataka 560042.

6. Government Museum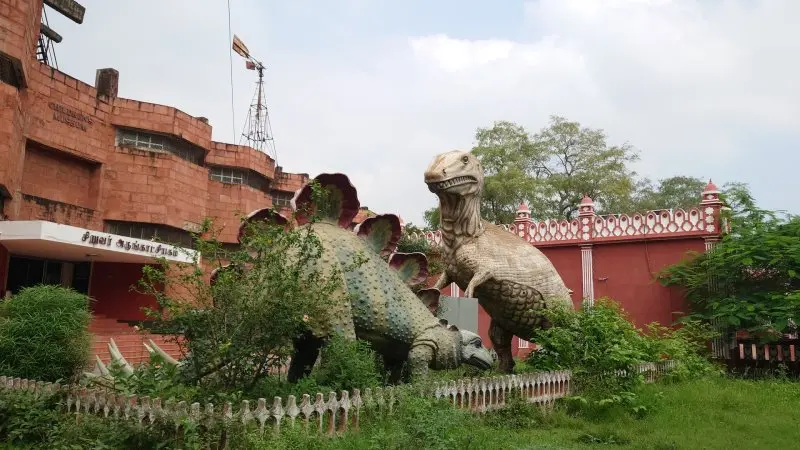 One of the oldest museums in India, the Government Museum in Bangalore, offers a peek into the rich history and culture of Karnataka. Established in 1865, the museum has an extensive collection of archaeological and geological artifacts, including ancient coins, jewelry, sculptures, inscriptions, and rare artifacts from the Indus Valley Civilization.
The museum's architecture itself is worth admiring, with its beautiful Corinthian columns and deep red hue. A visit to this museum is akin to a journey through time, offering valuable insights into the region's past.
Entry Fee: 15 INR; Location:
Check Map
Address: Kasturba Rd, Ambedkar Veedhi, Sampangi Rama Nagar, Bengaluru, Karnataka , India.

7. Vidhana Soudha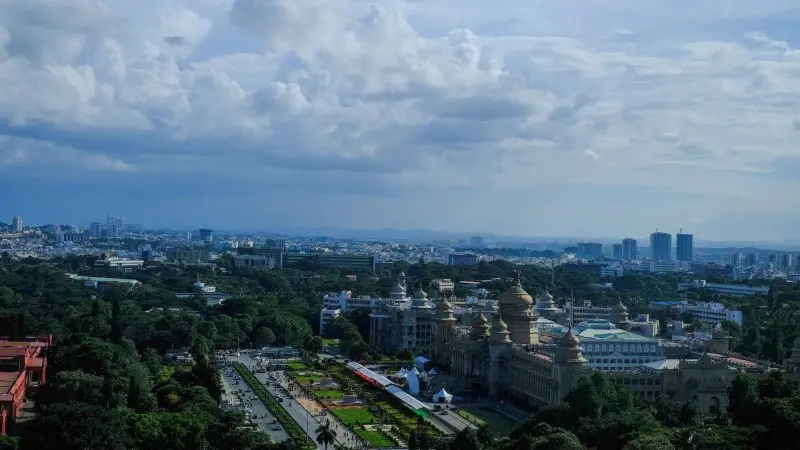 Vidhana Soudha, the seat of the state legislature of Karnataka, is an iconic landmark of Bangalore. Constructed in 1956, the building is admired for its impressive Neo-Dravidian architecture, combining elements of Indo-Saracenic, Rajasthani Jharokha, and Dravidian styles.
The granite building stands majestically with its four domes on the four corners. While visitors are not generally allowed inside due to security reasons, the view from outside is awe-inspiring, especially in the evenings when it is illuminated. Vidhana Soudha is a symbol of Bangalore's political history and architectural grandeur.
Entry Fee: Free; Location:
Check Map
Address: Ambedkar Bheedhi, Sampangi Rama Nagara, Bengaluru, Karnataka, India.

8. Krishna Rajan Market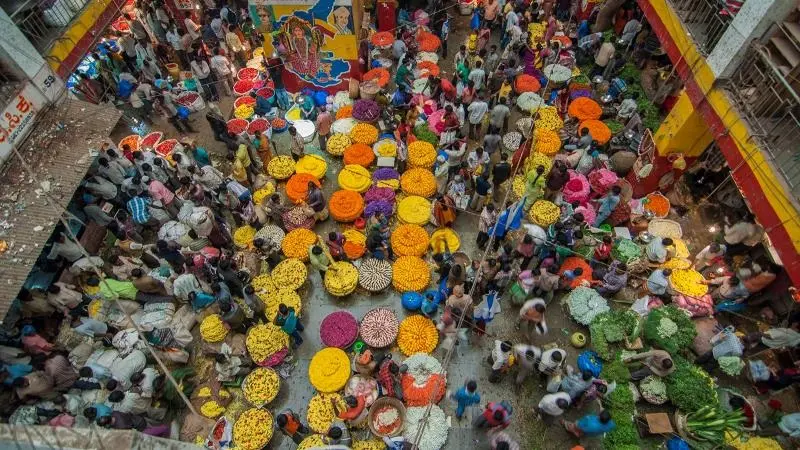 Krishna Rajan Market, also known as KR Market, is a bustling shopping area in Bangalore that provides an authentic local experience. The market, in operation since the British era, is one of the largest wholesale markets in the city, dealing with commodities like vegetables, fruits, spices, flowers, and textiles.
The vibrant atmosphere, colorful displays, and the energetic haggling of vendors and customers give visitors a taste of the local life. A visit during the early hours of the day, especially to the flower market, is highly recommended for photography enthusiasts.
Entry Fee: Free; Location:
Check Map
Address: Kumbarpet Main Rd, Ragipet, KR Market, Dodpete, Nagarathpete, Bengaluru, Karnataka, India.

9. Wonder La Water Park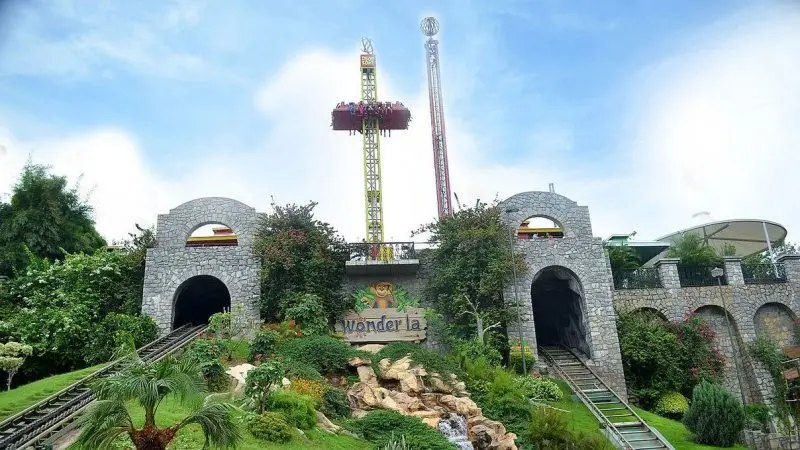 For an adrenaline-pumping experience, Wonder La Water Park is the place to be. Located on the outskirts of Bangalore, Wonder La is one of India's biggest amusement and water parks, featuring a wide array of thrilling rides for all ages.
Whether you want to float lazily on the Lazy River, experience the thrill of high-speed water slides, or enjoy the artificial wave pool, Wonder La has something for everyone. The park's well-maintained facilities and stringent safety measures make it a popular destination for a day of fun and excitement.
Entry Fee: 1.016 INR; Location:
Check Map
Address: Nehru Outer Ring Road Exit No. 13, Raviryal, Telangana 501510, India.

10. ISKCON Temple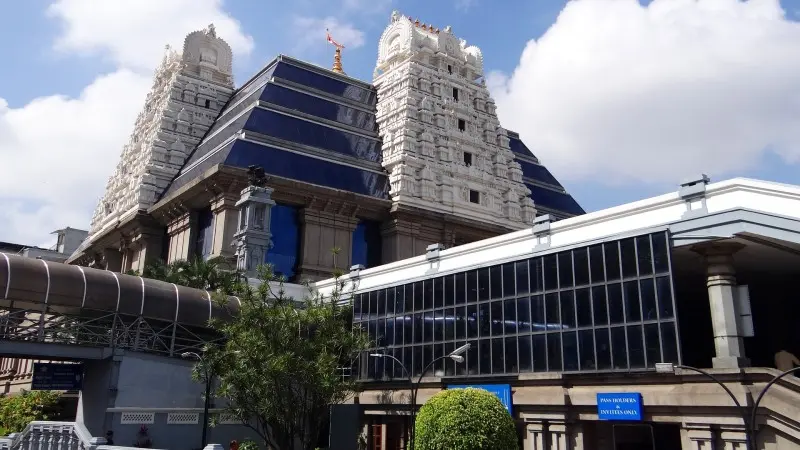 ISKCON Temple, located on Hare Krishna Hill, is a significant spiritual destination in Bangalore. Dedicated to Lord Krishna, the temple is a part of the International Society for Krishna Consciousness (ISKCON).
The temple complex boasts of an exquisite blend of modern and traditional south Indian temple architecture. Apart from the shrines, the complex also houses an open-air amphitheater, a Vedic theater, and a variety of eateries serving delicious vegetarian food. The peaceful ambiance of the temple, coupled with its spiritual activities, provides a sense of tranquility amidst the city's hustle and bustle.
Entry Fee: Free; Location:
Check Map
Address: Hare Krishna Hill, Chord Rd, Rajajinagar, Bengaluru, Karnataka 560010, India.

11. Innovative Film City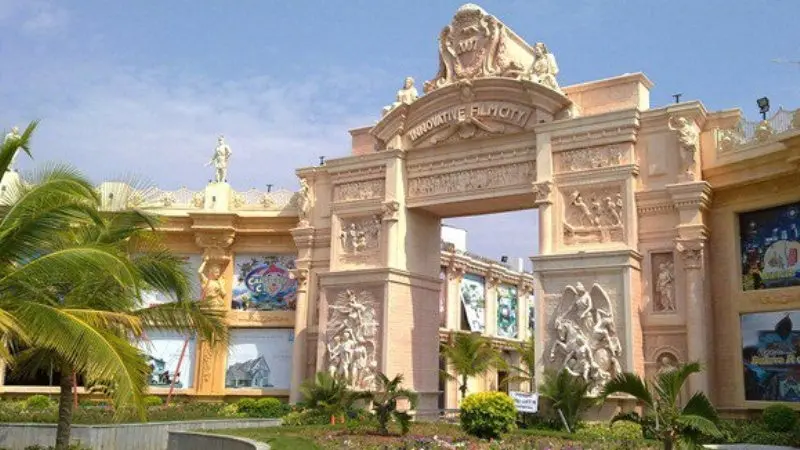 Innovative Film City, located about 40 km from Bangalore, is an entertainment paradise that caters to people of all ages. This theme park covers about 58 acres and is divided into different sections, including a Dino Park, Cartoon City, Haunted Mansion, and Indian film-themed attractions.
Visitors can also enjoy various interactive exhibits, a wax museum, a mirror maze, and adventure sports. For movie buffs, the behind-the-scenes tour offers an intriguing insight into film-making. With its variety of engaging and fun activities, Innovative Film City promises a day filled with amusement and entertainment.
Entry Fee: 100 INR; Location:
Check Map
Address: Bengaluru, Karnataka, India.

12. Jawaharlal Nehru Planetarium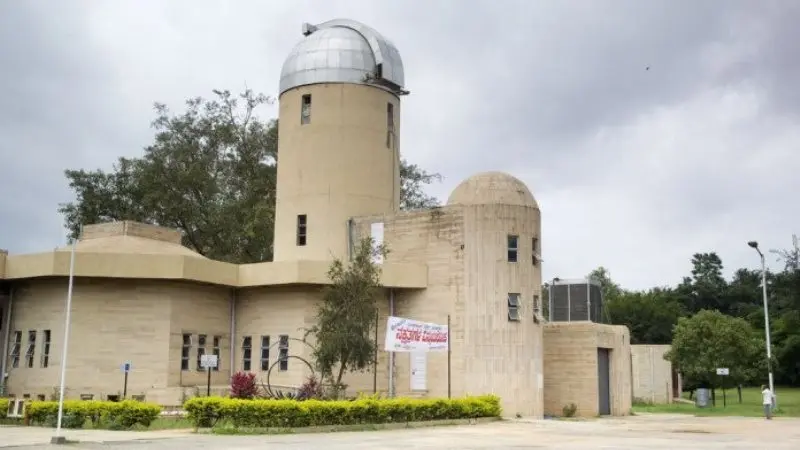 The Jawaharlal Nehru Planetarium in Bangalore is a gateway to the cosmos for astronomy enthusiasts. Established in 1989, the planetarium is a hub for science education and dissemination. The main attraction is the sky theater, which hosts various astronomical shows that take viewers on a captivating journey through the universe.
The planetarium also houses an observatory equipped with a six-inch code refractor telescope. Regular sky-gazing sessions are organized, allowing visitors to observe celestial events. Educational activities like science exhibitions, workshops, and lectures are frequently held, making it an enriching experience for students and adults alike.
Entry Fee: 100 INR; Location:
Check Map
Address: Sri T, Sankey Rd, High Grounds, Bengaluru, Karnataka 560001, India.

13. Shiva Temple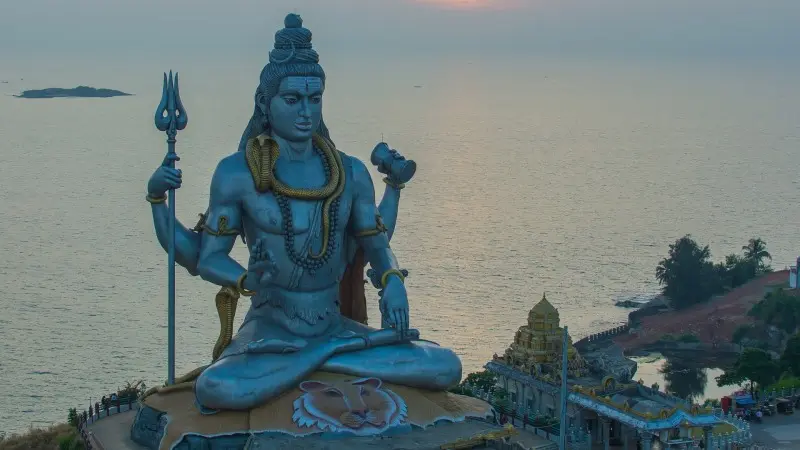 The Shiva Temple, located on the Old Airport Road, is a spiritual landmark in Bangalore. The temple is renowned for its towering statue of Lord Shiva, which stands at a height of 65 feet. This mesmerizing statue, depicted in a seated posture and coated in white, is visible from a significant distance.
In addition to the Shiva statue, the temple complex also features a beautiful statue of Lord Ganesh and a replica of the holy cave of Amarnath. A visit to the Shiva Temple provides a sense of tranquility and offers a spiritual retreat from the city's hustle.
Entry Fee: Free; Location:
Check Map
Address: Parking Sri Ram nagri, 97, HAL Old Airport Rd, Ramagiri, Murgesh Pallya, Bengaluru, Karnataka, India.

14. Lumbini Gardens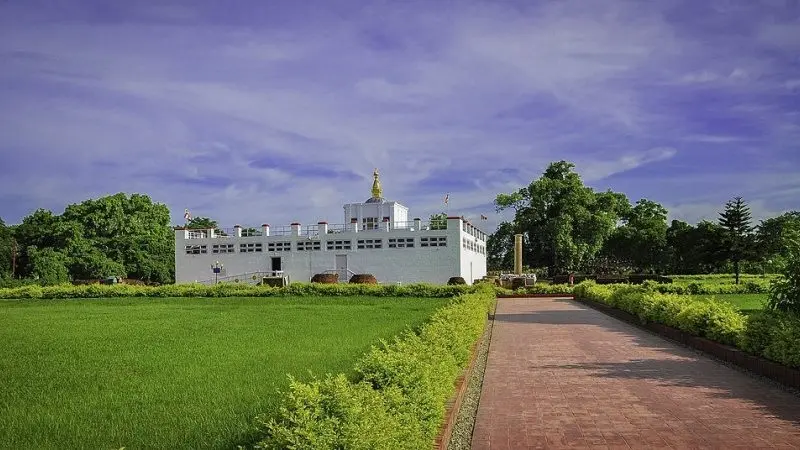 Lumbini Gardens is a picturesque public park located on the banks of the Nagavara Lake. The garden is named after Lumbini of Nepal, the birthplace of Lord Buddha. This eco-friendly boating park covers an area of 1.5 km and is a popular recreational spot.
The garden's prime attraction is the massive artificial beach, which can accommodate up to 5,000 people. Visitors can enjoy a range of activities, including boating, wave pool, and kids' rides. The sight of the serene lake and the lush green garden provides a relaxing and refreshing break from the city's buzz.
Entry Fee: 50 INR; Location:
Check Map
Address: Nagavara, Bengaluru, Karnataka 560024, India.

15. Bannerghatta National Park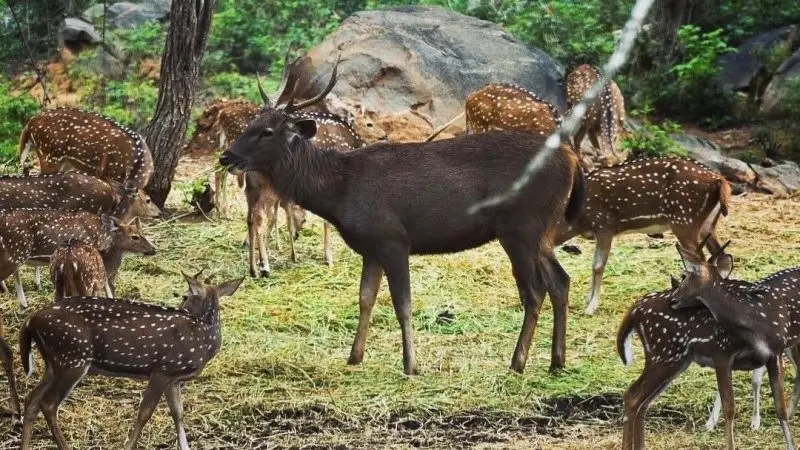 Spread over 104 square kilometers, Bannerghatta National Park is a must-visit for wildlife enthusiasts. The park is home to a variety of flora and fauna, including elephants, leopards, birds, and reptiles. The park's butterfly enclosure, the first of its kind in India, is a major attraction.
The park also houses a zoo, an aquarium, a children's park, and a rescue center for wildlife. The guided safari offers close encounters with the wildlife in their natural habitat. Located on the outskirts of Bangalore, the park is a perfect blend of wildlife and nature, providing an exciting escape from the city life.
Entry Fee: 80 INR; Location:
Check Map
Address: Bannerghatta Main Rd, Bannerughatta, Bengaluru, Karnataka, India.

Conclusion
The city of Bangalore continues to surprise with its diversity of attractions. These attractions, coupled with the city's rich culture and friendly locals, make Bangalore a vibrant and welcoming destination for travelers. Whether you're a science enthusiast, nature lover, spiritual seeker, or an adventurer, Bangalore promises a variety of experiences that cater to your interests.